October 4-8 is Book Fair Week!! Check out the interactive book flyer.
Help feed your child's love of reading and enjoy the magic and memories the Book Fair provides! Students will visit the Book Fair with their class and can purchase books and other fun items.
On Friday, October 8, the Book Fair will be open from 12-2pm for students and their families after half day dismissal.
Entry on Friday will be through the exterior media center door and may be staggered to limit the number of people attending. Please remember that masks are required for entry into the building for all attending.
*Also, remember that tax is charged so please include that in any funds sent and consider allowing your child to round their purchase up for the All For Books program which goes toward purchases for the school.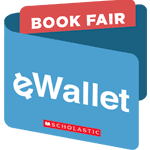 Parents not wanting to send cash may set up an e-Wallet prior to their child's visit to the book fair. Scholastic e-Wallet is a safe, cashless payment option for students. We HIGHLY encourage the use of the Scholastic e-Wallet which deposits money directly into your child's book fair account. This prevents money from being lost or forgotten! Students can spend up to the amount you choose and any amount that is leftover is not charged to your account.
If you're not able to attend the Book Fair, try our new online shopping. We've partnered with the Scholastic Store to offer over 6,000 products that ship direct to home (with free shipping on book-only orders of $25 or more)! Visit our homepage to get started: https://www.scholastic.com/bf/wbolles