Our breakfast and lunch menus for the district can be found here: Whitmore-Bolles Menu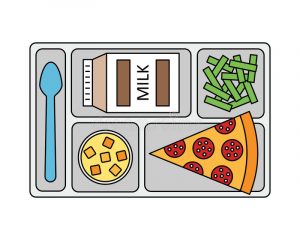 School Breakfast: Students may enter the building through the Main Office doors no earlier than 8:35AM
Snack: Please pack a healthy snack for your child that is separate from their lunch. Please avoid sending snacks that contain a lot of sugar or salt (fruits & veggies are preferred).
Water Bottle: Please send your child daily with a reusable water bottle. We have several hydration stations in the building for our students to use for refills.
Dearborn Public Schools serves nutritious meals every full school day. The district participates in the Community Eligibility Program under the U.S. Department of Agriculture's School Lunch Program and offers free lunch and breakfast to all kindergarten to 12th grade students, regardless of family income.
Partnership with SFE
Dearborn Schools proudly began a partnership with Southwest Foodservice Excellence (SFE) on July 1, 2019. SFE is a culinary-based foodservice management company dedicated exclusively to K-12 nutrition. Focused on nourishing students to reach their highest potential, the company provides superior food with more focus on "fresh-from-scratch", more menu options and more onsite support than any other K-12 provider.   SFE has partnerships in school districts spread across 15 states serving over 300 million meals per year.
SFE is committed to the nutritional well-being of every student and staff member in the Dearborn School community, fueling students to reach their highest potential. In fact, the company exclusively serves in K-12 school districts; and it brings a fresh, culinary approach that contrasts with that of traditional school cafeterias, where meals are traditionally pre-packaged and highly processed.
SFE's fresh approach will feature:
Superior, fresh-from-scratch food:   Over 75% of SFE's offered entrees are made fresh-from-scratch.   SFE President Chef Monty Staggs explained: "We seek out the best ingredients, sourcing locally whenever possible and seasoning with real herbs and spices.  We also offer the widest variety of fresh fruits and vegetables of any K-12 provider, including fresh salad bars.  And we present every meal so that it looks as delicious as it tastes.  We really want students to be excited to eat at school–and then ready to learn."
More menu choices:   With a collection of more than 3,000 on-trend recipes, SFE is committed to keeping their menus fresh and exciting for students.  They offer the widest variety of custom cuisines in the K-12 industry, and their nutritionally balanced menus are specially created for each district—with plenty of student feedback along the way.  Chef Staggs added, "We want to be sure that every single student can always find foods they love."
5-star onsite support:   SFE provides world-class culinary training, along with a dedicated team of culinary, compliance, nutrition, HR and operational professionals for every school.  They work as partners within a school's food service team with the shared goal to treat each student as a guest. Dearborn's dedicated on-site team, led by Sr. General Manager Josh Bain, will work tirelessly to ensure Dearborn students receive the best food possible.
Throughout the school year, SFE also offers nutrition education classes and events that are community-interactive, involving students, staff and parents. These regular events include health fairs, farmer's markets, and food demonstrations. They also include SFE's own "Roving Chef" program, designed to teach kids about culinary skills and nutrition principles– right in the kitchen, alongside a real chef.
SFE is proud to be the guardian of the Dearborn Schools Child Nutrition Program and looks forward to working together with the district's team to "put child nutrition first."
Menus & Nutrition Information
Interactive school menus, along with complete nutrition information, are available through Nutrislice (link to dearbornschools.nutrislice.com)
Download the Nutrislice App:
iPhone (link to https://apps.apple.com/us/app/nutrislice/id567183091)
Android (link to https://play.google.com/store/apps/details?id=com.nutrislice.schoollunch&hl=en_US)
Please follow this link for the current school lunch menus in Arabic (update hyperlink to pdf menus).
Halal Certification
Dearborn Public Schools ensures all meats served in our schools are certified Halal. Certificates for our products can be found here.