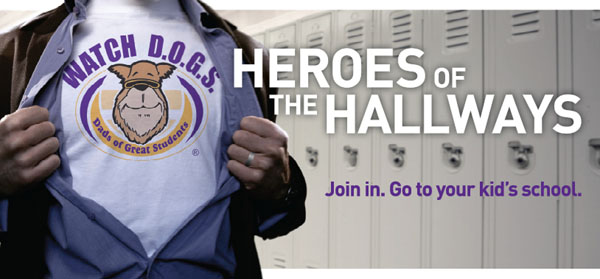 Our Watch D.O.G.S. (Dads of Great Students) program has been a huge success! We are in need of dads, grandfathers, or uncles to sign up for open dates. There are plenty of days available. If you have not done so already, please make sure you submit the iChat form 10 days prior to volunteering.

Please sign up to help us with our program goals:
To provide positive male role models for the students, demonstrating by their presence that education is important
To provide extra sets of eyes and ears to enhance school security and reduce bullying.
WatchDOG volunteers perform a variety of tasks during their volunteer day including monitoring the school entrance, helping with morning pledge and announcements, assisting with unloading and loading of buses and cars, monitoring the lunch room, or helping in the classroom with a teacher's guidance by working with small groups of students on homework, flashcards, or spelling.
All volunteers must have a Criminal Conviction History Form (iChat) and copy of their driver's license on file in the office 10 days prior to the volunteer date. You can download the Criminal Conviction History Form (iChat) by clicking this link.
All volunteers must also wear the official Watch D.O.G.S. uniform.  Please click uniform-order-form for a downloadable order form.  All forms with money can be turned in to the main office.  Please make checks made out to Whitmore-Bolles Elementary School, in the memo please add Watch D.O.G.S. uniform order
Please contact Mrs. Jeannine Oynoian, school coordinator at oynoiaj@dearbornschools.org or Jeremy Roth, parent coordinator, at jeremy@redeemerdearborn.com with any questions that you may have.